It's been longer then I thought since I last updated, but here's an entry on a guy I'm gonna go see live tonight ^_^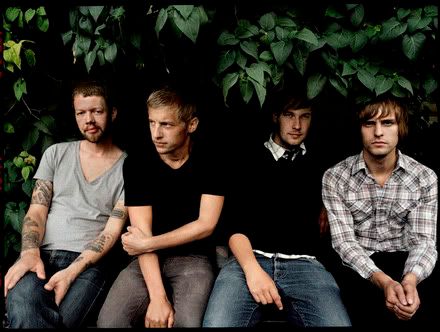 One of Sweden's best indie artists is no doubt
Tiger Lou
, aka Rasmus Kellerman. (If I'm not mistaken, he's the second guy from the left on the pic above, while the others makes up his touring band.) Indie pop? Indie rock? I'm not sure how to describe his music to make it justice, but I can agree with his German label,
riptide recordings
, that wrote "it is rare that a pop song has felt so important as when told by the Tiger!" He released his debut EP,
Trouble and Desire
, in 2003 and his second full album,
The Loyal
, came out in October 2005.
The song below is a single from Tiger Lou's first album,
Is My Head Still On?
Though released as a single I think it's far from his best song, but it was the only one for which I could find a full downloadable sample :p If you're on last.fm and want to hear more - go check out his
last.fm artist page
where most of his released songs are available.
Sell Out