Yes, it seems so many has already written about them, but I didn't even know these guys existed till I read the newsletter from my favorite alternative music store yesterday. So I wanted to make a post about them, in case anybody else has missed out as well :p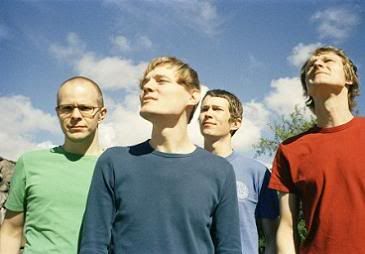 Finnish
Red Carpet
appears to have recieved plenty of praise since releasing their second album,
The Noise of Red Carpet
, in autumn last year. These four guys make some nice pop, more specificly "harmony pop" if one is to agree with Rumba Music Magazine. And while I'm not overly excited I still like it. A lot.
When You Sing is taken from their latest album, while Model, which reminds me of Nada Surf's
Let Go
that I liked so much, is taken from their 2003 debut,
Halfway
. Apart from those two songs, Red Carpet has plenty of short as well as a couple of full mp3 samples more available from their homepage. You can also visit
their MySpace
to hear some nice, though unfortunately non-downloadable, tracks more ^^
When You Sing
Model