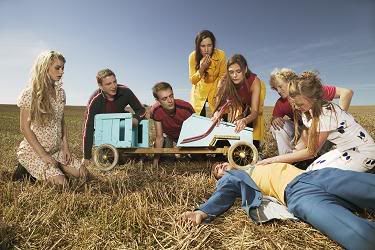 I've been meaning to write about
Under Byen
since they released their third album,
Samme stof som stof
, a month ago, but I wanted to wait till I could link to some samples from it first. It took me a while, but a couple of days ago I finally noticed they had relaunched their site with a fresh new look and two new songs.
Under Byen is a Danish octet formed already in 1995. Their music is generally speaking beautiful, even though their style varies from classical to mellowish alternative rock. One remarkable thing about Under Byen is that despite the eight people they have no guitarist! If you liked
Lampshade
you should definitly check these people out.
The song below is taken from the new album and it's a pretty good summary of everything that makes me like Under Byen. The title of it means "This songs is about getting the best out of it".
Den her sang handler om at få det bedste ud af det